Ginger Crystal
Ginger Crystallized
Product code: Ginger Crystal
Net weight:

Description:
As the deep processing products, the crystallized ginger maximumly retained the characteristics of ginger. Without any additives, crystallized ginger is a green and healthy food for all ages.
Made of fresh and tender ginger, stir-frying with honey, it tastes sweet and soft, with a little bit spicy.
It is not only the travel snack food but also good supplementary food for some special groups of disease. Such as coughing, chronic bronchitis, bronchitis, cold stomach, rheumatism, vomiting, motion sickness, seasickness, and coronary heart disease.
Ginger can also be refreshing. Enhance immunity, inhibit cancer cell growth. With high energy, the crystallized ginger can drive out the cold dampness, which can be labor protection or protective equipment for our special types of work.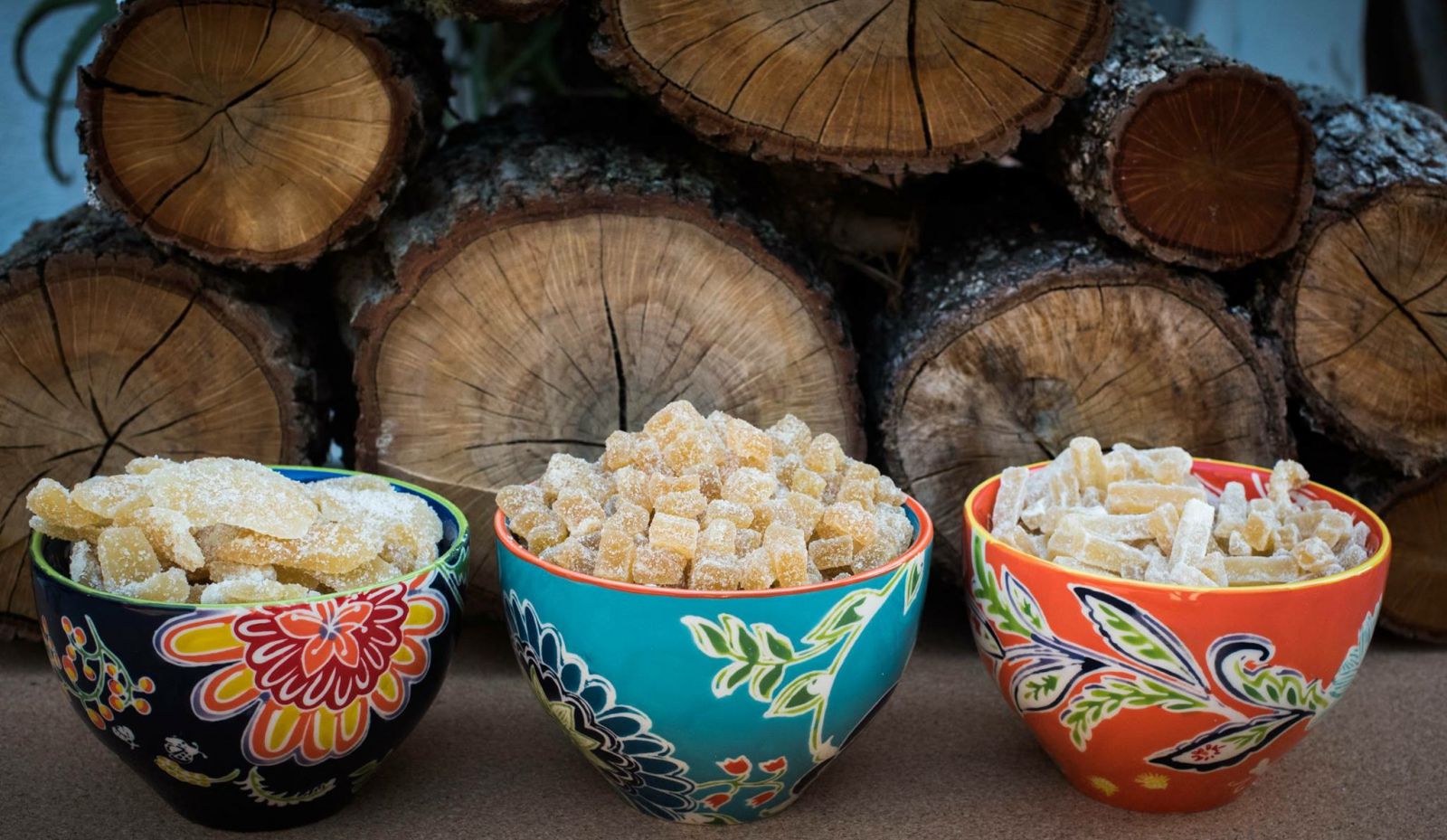 Specification:

| | |
| --- | --- |
| Product Name | |
| Shape | Slice, Dice, Chunk, Cube |
| Sugar | 60-80% |
| SO2 | 100ppm Max |
| Moisture | 20% Max |
| Ingredient | Yong ginger, Cane sugar, no food additives |
| Package | 5kg/bag * 4bags, 20kg/carton |
| Loading | 800-850 cartons per 20'ft container |
| Storage | In a dry, cool, shady place, 15-25℃ |


Ingredients:

Fresh young ginger
White sugar


Ginger Crystal Process:

Step 1: Peel off the cover of ginger. Clean carefully and soak into cold water in 1 hour. If you love spicy, you can choose the old ginger.

Step 2: Use a knife to cut into thin pieces (1mm) and continue to soak into cold water for waiting cooking.

Step 3: Pour all sliced ginger into a pot, add more water to cover all ginger. Cook in 7 – 10 minutes. Here is the first step to creating the flavor for one of the amazing Vietnamese Dessert Recipes.

Step 4: After that, soak ginger into cold water immediately. Wash in 2 – 3 times. Repeat the process in steps 3 and 4 for 2 – 3 times and then pour all sliced ginger on the basket and wait to get dry.

Step 5: When ginger is dried, pour all sugar and mix well. Marinate in 3 – 4 hours until all sugar is melted.

Step 6: Pour all mixture ginger in step 5 into the pan, cook in small heat. Sometimes you use chopsticks to stir well.

Step 7: Cook until all water in ginger boils, you use a spoon to stir until all sugar is dried and absorb on the faces of ginger. Turn off the heat.

Finally, your dish is finished. Store in a glass jar and use day by day. Hope you love this dish.
Online Support
+84.903561868

gingeroilvietnam@gmail.com
Ginger Vietnam Office

+84.903561868

Consulting

+84.024.62948948